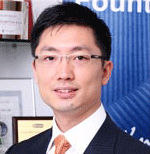 Dr Gordon YEN
Executive Director
Fountain Set (Holdings) Limited -FSHL

From a dyeing house to the largest circular knitted fabric manufacturer, FSHL milestones have been many a memorable ones. Can you recount them all?
1969-Mr HA Chung Fong, the Fountain Set Group's Chairman, co-founded the Globe Dyeing Factory in Hong Kong
1988-Listed on the Stock Exchange of Hong Kong (SEHK:420) in April with US$18 million fund raised
1989 -Established first fabric mill in China-Dongguan Fuan Textiles Limited
1993 -Set up first overseas office-Fountain Set Textiles (B.C.) Limited in Vancouver
1996-Founded Ocean Lanka (Private) Limited, first fabric mill outside of Hong Kong and China
1998-The Group completed the relocation of the remaining production lines in Hong Kong to China
2002-Lauded by Forbes magazine as 'Best under a billion, Forbes Global's 200 best small companies in the world' and awarded 'No.1 best small company in Hong Kong' from Asiamoney magazine
2004-Obtained '2004 Hong Kong Awards for Industry-Export Marketing Grand Award' from Hong Kong Productivity Council
2006-Accredited 'No.1 Turnover in Textile Knitting Industry in China in 2005-2006', 'No.1 Export in Textile and Garment Industry in China in 2005-2006' and ranked no.18 in 'Top 100 in Turnover in Textile and Garment Industry in China in 2005-2006' by China National Textile & Apparel Council Statistic Center
Which market and clientele do you cater services to?
As a major fabric supplier to garment manufacturers in over 40 countries that supply to internationally renowned retail brands, the Group's major products export to the US and the EU markets. Our products and services are trusted and used by high-profile brands and retailers. Numerous popular, medium and luxury brands, fashion mailing catalogs and department stores are also our distinguished clientele which include Abercrombie & Fitch, adidas, Calvin Klein, Columbia, Fast Retailing, GAP, JCPenney, Kohl's, Land's End, Liz Claiborne, L.L.Bean, Marks & Spencer, Mango, Nautica, Next, Nike, Ralph Lauren Polo, Sears, Tesco, Timberland, Tommy Hilfiger, Victoria's Secret, Wal-Mart and more.
How has FSHL been able to maintain its market supremacy in the crowded Chinese market?
Currently, over 90% of our products are being shipped outside of China. As the world's largest circular knitted fabric producer, the Group is able to enjoy economies of scale with large production capacity, good quality assurance system, strong customer base, broad product offering, extensive global network and dedicated R&D.
Economies of scale: Fountain Set is one of the largest global purchasers of yarn with extensive supplier network and highly vertically-integrated manufacturer with streamlined operation from yarn spinning to fabric production. The Group has low-cost production by operating state-of-the-art machinery and equipments.
Large production capacity: Fountain Set has advanced production facilities in China, Sri Lanka and Indonesia and its global staff force is approximately 20,000. As a major fabric supplier to garment manufacturers in over 40 countries that supply to internationally renowned retail brands, Fountain Set's worldwide sales reached US$919 million in the financial year 2006.
Good quality assurance system: Fountain Set ensures the highest of quality through a number of different Quality Assurance channels. The Group has achieved TQM and ISO certification.
Strong customer base: For over 37 years, Fountain Set has established great customer relationships with internationally renowned retailers and brands.
Broad product offering: The Group offers dazzling range of products and services of dyed yarn, fabric, garments around the world.
Extensive global network: As the largest 100% cotton knitted fabric manufacturer in China and Sri Lanka, Fountain Set has established nine marketing and representative offices in eight countries which can provide quick response service of global fabric industry trends to the Group.
Dedicated R&D department: The R&D department researches on high value-added products, introduces new technologies and use new variety of raw materials for Fountain Set's knitted fabric.
Published on: 11/06/2007
DISCLAIMER: All views and opinions expressed in this column are solely of the interviewee, and they do not reflect in any way the opinion of Fibre2Fashion.com.