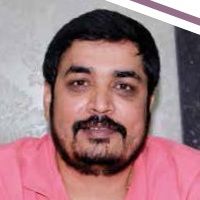 Ghanshyam Ghoghari
Managing Director
Kimora Fashion

Company Details
Business Area:
High quality wholesaler of bridalwear (suits and lehengas)
How big is the bridalwear market in India and abroad? At what rate is the market growing? What are the latest trends for the upcoming wedding season? What are the challenges in selling bridalwear onl
It is assumed that in India approximately 10 million weddings take place every year. Indian wedding apparel market accounts for INR 10,000 crore and is growing at 20-25 per cent every year. The main garment retailers in India are from the northern and western regions and the major share from the international market involves the US and the UK.
The colour of the bridal attire is nowadays playing major role in bringing out a modern look in the most stylish way. The current trending colours like blush, mauve, light teal, ice blue and light mint are pioneering for a classy look and also make a style statement in bridal ensembles, especially at mehendis and sangeets. Hand embroidery, zari, dabka work, heavy embroidered dupattas, floral work, gold tikki work, gold embroidery and mirror work are all trendy for the Indian bridalwear.
Constant interaction with seasoned Indian designers by our research teams along with continuous participation in domestic and international exhibitions help us realize the up and coming fabrics, colours and other accessories to cope with latest trends and come up with fresh and vibrant collection. Our Jaipuri Bandhish in silk is the most in demand this year but the present demanding category of the bridal collection includes lehengas and gowns more, in comparison to saris.
Though our portal has helped us demonstrate products in some of the untapped areas in India and abroad, online sale of the bridalwear is not of much help as it is highly priced. Consumers always desire to have a look at the wedding dress. A detailed observation and the weight of the outfit also counts, as in India, the purchase of bridalwear involves family and is not solely the decision of the bride.
Published on: 06/09/2016
DISCLAIMER: All views and opinions expressed in this column are solely of the interviewee, and they do not reflect in any way the opinion of Fibre2Fashion.com.