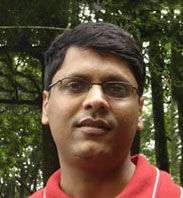 Mr. Prashant Lohia
CEO
Ginni Systems Limited

Company Details
Business Area:
Retail software, manufacturing software, inventory control, Point of Sale
Clientele:
India, US, Bangladesh, Bhutan, Nepal
How important is the technology solutions sector for the garment & apparel industry in India? How is the sector faring currently? What challenges do players of your kind come across?
Technology can be seen as a driving force for the growth in garment and apparel industry in India. A flexible and real-time technology solution is required to provide scalable platform to run apparel industry with zero hassle. Technology simplifies the organizational planning, manufacturing and retailing in fashion industry. The most important aspect of garment and apparel retail is to have visibility of inventory across supply chain - Warehouse, Logistics, In-Transit, Stores. Once you have inventory all across at your finger tips, real-time and online, decision making becomes easy. The second foremost role technology plays is to replenish inventory or stocks. The key is to have right inventory at right location and at the right time.
The sector is dynamic and the focus of the fashion industry is on the smoother management of the complex web of inventory control, supply chain logistics, ordering, MIS reporting, billing or invoicing and
cash memo management. Retailers appear to have awareness about the new technologies but to convert the best use of technology into improved customers satisfaction is the matter of concern for the retailers. For e.g. digital signage, loyalty SMS, POS etc. are all failing the mark of customer satisfaction.
Major challenges:
Robust IT infrastructure is not in place

Use of outdated networking in business procedures

Workforce do not possess the required skill set to operate the system
Transforming technology affects people and procedures. The successful implementation of any technology depends not only on the performance of the technology but also on the operational processes that employ the technology and the people who execute them. However, with substantial and extended professional development of the workforce in the innovative technology model things can be worked out progressively.

If we don't change our business model we are doomed. No matter your company is big or small, all tend to innovate to survive in the industry. Our clientele have seen a big improvement overall by making
the optimum use of an integrated solution.
*******
Published on: 07/08/2012
DISCLAIMER: All views and opinions expressed in this column are solely of the interviewee, and they do not reflect in any way the opinion of Fibre2Fashion.com.