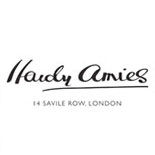 Nick Preston
Trading Director
Hardy Amies

What are the popular apparel fashion trends in UK? Why do you think is the Indian market a lucrative option for Hardy Amies? Are there any further expansion plans for Hardy Amies?
Soft separates are really popular this season; de-constructed and softer garments which are perfect for a modern and busy lifestyle. People are opting for natural fabrics like linen, cotton and wool. There is a lot of interest in textures. And there is a strong focus on traditional men's classic reinvented with modern aesthetics.

There are two kinds of consumers in the British market - domestic and visitors. The retail market is thriving with overseas visitors. The luxury end of market is very strong. Since the Olympics in 2012, Britain brands are doing really well with visitors, wanting to buy classic apparel.

The current position of Hardy Amies is that of a global brand. We bring the modern London lifestyle available to gentlemen in any modern city. People all over the world understand the British look. Cosmopolitan cities understand the basics just as well as Hong Kong or Beijing.

All the emerging markets are good options. All of Asia and the Gulf are doing really well in the retail sector. On-line portals like Mr. Porter and the Corner from Europe are also doing ood. The most challenging market is Europe because of the financial distress. Retailers are the first ones to suffer. In such difficult times, it gives us time to investigate ways to do something different.

There is a definite appetite for something new. And we call ourselves a young new brand. At the moment, we are very happy with our collaboration with The Collective. We're incredibly pleased with the orchestration of our visit and we're looking forward to an exciting partnership.

Published on: 25/04/2014
DISCLAIMER: All views and opinions expressed in this column are solely of the interviewee, and they do not reflect in any way the opinion of Fibre2Fashion.com.