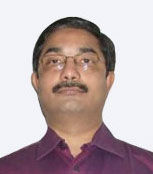 Milind Khandwe
President - Technology & Innovation
Hindoostan Innovation Centre

Company Details
Which areas of innovation is the Hindustan Innovation Centre (HIC) focused on?
The areas of innovation which the Hindoostan Innovation Centre will focus on include high performance composites, medical textiles, high performance nonwovens and infrastructure solutions.

Modern technical textile is an indispensable tool for science and technology. It is set to be a promising field, offering multifunctional materials and structures achieving high levels of physical, mechanical, thermal and chemical properties through an engineered design process based on scientific design and technology concepts.

The HIC is determined to provide environment for scientific and technological manpower to cultivate activity of research and experimental development (R&D).

To bring our innovations to market, the centre is equipped with experimental development and prototyping methodology; which is a systematic work, drawing on existing knowledge gained from research and/or practical experience and directed to producing new materials, products or devices, to installing new processes, systems and services or to improving substantially those already produced or installed. The traditional technical textile industries mainly rely on pre-formulated materials, which is a main cause of their lack of commercial penetration. HIC provides an opportunity to indigenise formulations to break the ice of noncommercially-viable products.
Published on: 23/04/2015
DISCLAIMER: All views and opinions expressed in this column are solely of the interviewee, and they do not reflect in any way the opinion of Fibre2Fashion.com.