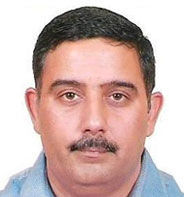 Mr. Amod Vig
CEO
Indian Textile Auxiliary Co.

Company Details
Business Area:
Manufacturing textile processing chemicals, Florescent NEON dyes, eco-friendly solutions for processing & salt-less dyes
Clientele:
Srilanka, Bangladesh, Kenya, India, Indonesia
In the context of developments in textiles industry worldover, how do you find textile enzymes & auxiliaries market beats? How can players like you contribute to sustainability arena?
Wet processing has been and will remain important to the textile industry. However, economic forces, market demands, and environmental concerns will shape the direction that chemical development for wet processing will take.
I would like to be upfront and frank that our industry can do much better if they can be more proactive so far as R&D and investment on the same can be increased both at end user and the manufacturer side.
Global competition requires textile chemicals at lower cost. One way to achieve this goal is to provide high solid concentrates. By reducing the amount of water to be shipped, transportation costs can be lowered, leading to lower cost products. One disadvantage of this approach is the necessarily higher cost per kilogram of the shipped product. Although the actual cost for use may be lower, the higher initial cost may be a deterrent to sales.
Moreover, another approach to lower chemical costs is to provide the chemicals in bulk or semi-bulk containers. In this way, the costs for drums and drum disposal are eliminated.
If the performance of a chemical product can be enhanced, then the amount of chemical needed for a specific property can be reduced. Using a more efficient chemical can lower the cost per use and since less chemical is being used, effluent problems can be minimized. We should collectively, as human race; look at reducing water usage irrespective of our geographical location. India has more stringent laws whereas some of the neighbors go scot-free with timid laws.
Often, the use of a textile chemical involves generating undesirable side effects such as foam and effluent problems. Overcoming these difficulties is costly in terms of additional chemical requirements and reduced productivity. One important requirement for competitive textile chemicals will be fewer problems during use.
The second significant trend for textile chemical products is the growing need to be environmentally friendly. Products that require less energy and water to perform their function will be preferred. Governments continue to restrict the use of various chemical products, requiring textile chemical suppliers to comply with a myriad of rules and regulations. Successful textile chemicals will need to provide desired performance with minimum pollution.
I see scope for mid level companies, as many of them have been churning out huge volumes for MNCs on contract basis. MNCs have better leverage in terms of marketing.
*******
Published on: 23/05/2012
DISCLAIMER: All views and opinions expressed in this column are solely of the interviewee, and they do not reflect in any way the opinion of Fibre2Fashion.com.