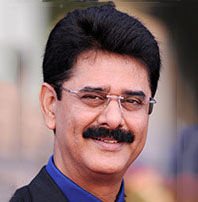 Jitendra Chauhan
Managing Director
Jade Blue

Company Details
Business Area:
Jade Blue is menswear clothing retailer and has more than 18 men's clothing store with over 100,000 satisfied client base.
Turnover:
More than 160 Crores INR (as in 2012-2013).
Clientele:
Middle and upper middle class, renowned clients like Narendra Modi, Gautam Adani, Ahmed Patel and Amit Shah.
What is the current market scenario of menswear segment in India and what are the challenges faced by the segment?
This season it is possible to observe very clear common elements of menswear clothing, namely the Luxury Sportswear trend, the 'hot white' colour, the Waist Coat jacket as a must-have item, the omnipresent floral patterns. Another emerging trend is the use of patches, is not now limited to denim but used on all products including pocketing on jumpers.

This time it has been renewed with modernized camo prints, with more graphical designs and played in new colour ways i.e. black & navy blue, cognac & sand, Outfits made up of various shades of grey are also a must for the season transition.

Furthermore, the colour-blocking trend has evolved slightly this SS14 with what is now called 'colour blocking strips' as seen in our Stores, Usually present in AW collections, the commercially successful strip & check patterns have also been introduced in the season transition collections.

FY 2013-14 has been good for all in market & the luxury products have become popular among the elite class, living in the state. The Indian 'Closet Consumer' of luxury has emerged as a major phenomenon & affordable premium menswear segment in India is expanding at 30% to 40% annually.

Luxury is becoming more and more synonymous with bespoke. It can be as high as more than 50% of total luxury menswear apparel market. At the same time, there is a potential for exponential development of bespoke services in upper mid-market 'affordable luxury category'. It could be around the corner or may be a matter of time!

For us this department of bespoke tailoring is the pride of Jade Blue with a rich heritage of thirty years, well-structured practices that stand up to world benchmarks, and a client list that reads more like a celebrity list.
Clothing retailer's challenge is that currently India constitutes only 8% of organized retail and remaining 92% is left unorganized, which may grow much faster than traditional retail. It is expected to gain a higher share in the retail market in India. Various estimates put the share of organized retail as 20% by 2020. The Government of India has allowed 51 per cent FDI in Multi-Brand Retail Trading (MBRT) and 100 per cent in Single-Brand Retail Trading (SBRT).

Foreign chains have been given the green signal to set up stores in cities with a population of less than one million. In the next few years, modern retail is expected to grow 50–60 per cent annually in tier II and tier III cities, compared to only around 30 per cent in the metros.

Better employment opportunities and improved lifestyles have pulled the rural population towards cities. By 2030, it is estimated that 91 million households will be middle class and about 570 million people are expected to live in cities. This factor would be a significant driver for organised retail.
Published on: 18/04/2014
DISCLAIMER: All views and opinions expressed in this column are solely of the interviewee, and they do not reflect in any way the opinion of Fibre2Fashion.com.