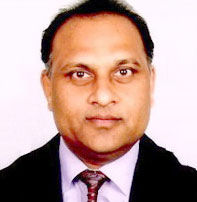 Mr. Pradeep Nahata
Managing Director
Karni Exports

Company Details
Business Area:
Export of high fashion ladies garments, kids fashion & home textiles
Turnover:
INR 50million (approx)
Export Capabilities:
Export: 25,000 pcs/month, Domestic: 10,000 pcs/month
Clientele:
USA, Europe, Japan, Middle East
Considering the global economic scenario, how is the export market for ladies fashion garments faring?
Considering the global economic scenario, it is very sad to say that the Union Budget 2012-13 has not given any relief to the exporters and they are even more panelized by way of service taxes and custom duties on embellishments and other taxes increased.
We can see that the garment export market is falling down day by day, and, this year specially, it is very crucial for exporters to survive, and to get the expenses of factories recovered from the garments exports.
But, garments exports are showing continuous downward trend and it is due to very bad situation in USA and Europe both. Also, the wages and expenses are increased a lot for Indian exporters, which is why they are not able to compete with Bangladesh, Pakistan and SriLanka, thus making the market situation tougher and the buyers are also preferring to these countries.
Indian garment exporters are facing a crucial time, and they will now have to move from exports market to Indian domestic market, which is a very growing market. Moreover, fashion garments are becoming the requirements of general public. Purchasing power of Indians is growing, and they want to lead a stylish and fashionable life.
Hence, I feel that the growing Indian economy is the alternative market for exporters.
Besides the Indian domestic market, there are a few Asian markets which are still strong and can emerge as new business opportunities like Saudi Arabia, UAE, Abu Dhabi, Muscat, and so on. Other than these, Mexico, Turkey and Russian markets are also growing slowly.
However, there is still a lack of technical advancement in garment export field, and we need to be more systematic, more efficient and more economical by adopting new machineries and new technologies.
*******
Published on: 30/03/2012
DISCLAIMER: All views and opinions expressed in this column are solely of the interviewee, and they do not reflect in any way the opinion of Fibre2Fashion.com.