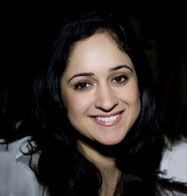 Ms. Karina Rajpal
Jt. Managing Director
Kidology

Company Details
Business Area:
Designer kidswear and accessories
Export Capabilities:
300-400 pieces / month
Clientele:
Dubai, UK, Moscow
How do you see designer kidswear segment faring currently? In what ways is designing for kids different from designing for adults?
The kidswear market in India is a very huge market. It is about an INR 300 billion market and it is growing at about 25% per annum. From this, the organized sector is only 5%. So, the designer kidswear market is a very small percentage of the overall kidswear market. Hence, we see that there is lot of potential for growth.
In fact, when we started, there was a void in the higher end kidswear segment. It is estimated that the kidswear market will be an INR 500 billion market in the next 2 years. Even though there are new entrants coming from overseas; there is a lot of international influx of brands, we see that there are more opportunities for competition and there is ample room to grow because the market as such is on a very nascent stage. So, there is a lot of potential –for the Indian brands and for the outside brands to come into the Indian market.
Besides, today the Indian consumers are much more aware of what they want. Most customers, at least our customers, are well travelled, discerning consumers who just want the best for their children. There is definitely a change in the mindset of the consumer. Most Indian consumers have a double income between the husband and the wife, since both of them are working, and the fact that they have lesser children is really driving the segment ahead.
The biggest challenge right now is actually the fact that real estate is very expensive in India. So, for a retail brand like ours to create a good presence, we need to have stores at frequently visited yet posh locations. Hence, that is one hindrance because this will require a huge investment. When compared to international brands and the kind of funding they have to expand, then it just becomes a hindrance for local brands to get the same kind of attraction in the market. So that's a major factor. If the real estate market becomes a little more reasonable then we may see better growth.
(Contd.)
Published on: 31/03/2012
DISCLAIMER: All views and opinions expressed in this column are solely of the interviewee, and they do not reflect in any way the opinion of Fibre2Fashion.com.