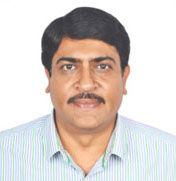 Sandeep Mehta
Applications Development Manager
Kornit India

'Direct to garment printing technology substantially reduces overall expenses for business houses'
Company Details
Business Area:
Direct to garment printing technology
How can businesses profit from opting the direct to garment printing technology? Can you talk something about Garment Technology Expo and the partnership between Kornit and DCC?
Though this does reduce substantially overall expenses for business houses, merely expense reduction is too little to ask for, from this technology.

At Garment Technology Expo - Bangalore, our idea is to demonstrate the 2 extreme ends of our printer portfolio. Our high-end Model - AVALANCHE-1000 is suitable for Industrial Printing market, and our entry level Mod. BREEZE is suitable for commercial printing market.

The icing on the cake would be the launch of our software solution 'QuickP Plus 2', which is a ready to implement business solution for managing workflow and business of on-line as well as off-line B2C commercial printing.

The front end of this software is a GUI which facilitates setting-up a virtual shop in on-line environment as well as setting-up a virtual shop within a brick & mortar physical shop.

The idea is to create spokes of Point-of-Sales by making this GUI available at the physical stores at various surrounding locations with reference to a hub at the center that would house a Printer to print the orders generated from POS at all the spoke locations. Such a Hub & Spoke model can be replicated at several locations. The front end also provides a powerful tool to the user for customizing the print on a blank garment of his choice.

The back-end is designed to enable an automatic workflow for the order execution at the hub, combined with inventory control of blank garments.

Thus the entire proposition is a ready-to-implement business model.

DCC is well established partner focused on providing services to the Garment Print Industry, with good understanding of Kornit products. By working with them, we feel that they are compatible to our growth plans as well as with the aspirations of our customers. This culminated in Kornit-DCC investing substantially in creation of demo & development facility at Tirupur for the benefit of the Industry players wanting to evaluate our value proposition before making an investment decision.
Published on: 16/09/2014
DISCLAIMER: All views and opinions expressed in this column are solely of the interviewee, and they do not reflect in any way the opinion of Fibre2Fashion.com.