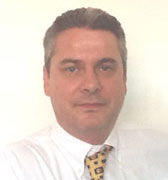 Mr. Renato Gerletti
Commercial Director
Loptex Italia S.r.L.

Company Details
Business Area:
Textile Machinery Manufacturer
Export Capabilities:
85% export; 15% domestic
Clientele:
Germany, Italy, Turkey, Central Asia, Middle East and Far East, Mexico, etc.
How is the textile machinery sector faring currently? How do movements in cotton industry affect your business of cotton decontamination?
Since we are a highly specialized company producing quality control textile machinery to monitor and elimiminate the contamination in a free fibres flow during an opening process, the price fluctuation of raw material is affecting a lot the cotton spinning industry, the yarn market and hence the textile machine manufacturers.
The innovations through heavy investments on research and development play a key role in this scenario. The target is to offer solutions with high quality/price ratio which leads to significant added value to customer final product.
As part of ACIMIT, the Italian Textile Machineries Association, we are also very keen to supply sustainable technologies with low environment impact and save cost operation.
We are also successfully entering the the Non-Woven sector for medical, cosmetic and higyenic purposes as the high quality demand of final product does not accept compromises at consumer level. The need of a system which can grant quality standards on consistent basis is a must on this scenario.
The continuos market survey along with customer satisfaction is the key of success in today worldwide market.
*******
Published on: 28/05/2012
DISCLAIMER: All views and opinions expressed in this column are solely of the interviewee, and they do not reflect in any way the opinion of Fibre2Fashion.com.