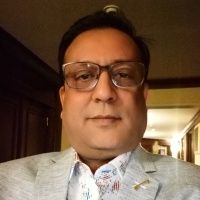 Sanjay Yagnik
CEO
Maa Tex Speciality

'We suggest reducing dosage of sizing chemicals to reduce sludge generation during the ETP process.'
What is the size of the global and domestic textile sizing chemicals market? Which chemicals are more in demand? Which regions do you export to?
The horizon of sizing chemicals has increased much more both globally and in the domestic market. Improvements in technology have resulted in machinery that is 10 times faster than the previous generation. New generation yarn and high speed machineries have increased the demand for stronger yarn. As a result, the requirement of quality sizing chemical has increased.
The sizing chemicals market is growing fast. Environment-friendly, bio-degradable and organic products are in demand. We suggest reducing dosage of sizing chemicals to reduce sludge generation during the ETP process. This gives benefits like zero discharge ETP plants. Organic sizing chemicals are eco-friendly and bio-degradable.
We hope to eliminate starch and use less energy in sizing chemicals. Hazardous animal substances should be avoided from sizing softeners. We have invented a product for certain yarns. It can eliminate the sizing process and warp preparations can be carried out from sectional warping machines.
We export to South-East Asian nations. GOTS certifications, Priority Substance Disclosure and Chemical Information List declarations and other routine procedures are carried out for exports.
Published on: 06/06/2016
DISCLAIMER: All views and opinions expressed in this column are solely of the interviewee, and they do not reflect in any way the opinion of Fibre2Fashion.com.