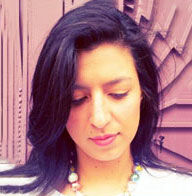 Ms. Linda Franco
co-founder
MACHINA

Company Details
Business Area:
Manufacturer of wearable electronics
Wearable technology is the new in-thing today. How do you see the interactions at play between the body, technology and fashion?
We must wait and find out. There are many people trying to do wearable technology and the clue to success is execution.
It all depends on the designer's point of view and what do they want to achieve. In our case we wanted the user to use his or her body as interface to make music and other functionalities. To make this work the garment must be adaptable, functional and aesthetic.
It is very difficult, if not to mention one of the most difficult tasks we have had to face as a brand. To come up with something that sells, you must find a necessity among the crowd where your product ends up being the solution. One problem we saw was the cyclist community is growing at large scales around the world with many accidents going around in urban cities. For this, we designed the Cyclist Back Pack which has led panels on the back to promote safety for the cyclist and driver using right and left turn signals.
Integrating technology into clothing has a lot to do with the starting design. It is of great importance because we need to make the technology invisible, wearable and functional in a very cool aesthetic garment. During the creation of each product we are not only testing our technologies, we test the design as well because in the end technology the design must be seen as one and live a functional life.
We have some ideas that we cannot develop just yet because the technologies that we want to use are not fully developed so this makes it very difficult to work on idea at the moment. The end technology is moving really fast and we will soon be more open to new developments that will allow us to do new and better integrations.
Wearables are beginning to be something very real. Ten years ago or so, having a cell phone was a privilege, used and bought by few. Today it is part of many people's life. We think the same will happen to wearables.
Clothing is beginning to merge with technology, and a new future will emerge. Integration will become ubiquitous, in every device we have. But that will only be the beginning. The second step will be clothing turning into exoskeletons, allowing people to do things that they could not do before (lift heavier items, have better integration with computers, be able to project, jump higher). Then, biological components will allow us to build clothing that merges with skin, where a suit will no longer be an external part of the body (a little bit like a contact lens).
Published on: 23/05/2013
DISCLAIMER: All views and opinions expressed in this column are solely of the interviewee, and they do not reflect in any way the opinion of Fibre2Fashion.com.