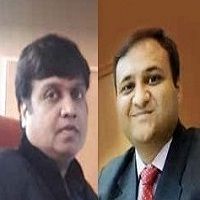 Mukesh Agarwal & Rajesh Agarwal
Directors
Madhuram Fincap Pvt Ltd

What is the size of the Indian textile market? What standards are needed to export? Which fabrics & yarns are in demand? What issues plague this sector? What can be done to boost productivity?
The textiles industry is one of the largest contributors to India's exports with approximately 11 per cent of the total exports. The textiles industry is also labour-intensive and is one of the largest employers. The industry realised export earnings worth $41.4 billion in 2014-15, and is expecting a growth of 5.4 per cent.
Global markets require ISO 9000 certification and Oeko-Tex approved quality of products. Cotton-dyed fabrics, PC shirting, knitted cotton and polyester fabrics, medium count cotton yarns have high demand in domestic markets; and in exports, all ranges depending on trends in that particular country.
Increasing prices and lack of demand are the main issues faced by our industry, at present Surat is facing competition from Bhilwara garment manufacturers. Power supply benefits and lower interest rates from the bank by the government can advance the growth of this industry.
The present era of automated machines has increased the production capacity and quality standards. Thus, we can now compete with other techno-savvy markets. The innovation of high-tech machines with higher rotation per minute(RPM), especially in weaving sector and fully computerised machines can help increase the productivity with low cost and provide output at faster rate, Barmac German machines is one such example.
Published on: 10/09/2016
DISCLAIMER: All views and opinions expressed in this column are solely of the interviewee, and they do not reflect in any way the opinion of Fibre2Fashion.com.