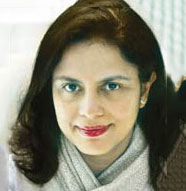 Ms. Rubana Huq
Managing Director
Mohammadi Group

Company Details
Business Area:
Garment manufacturing and export, Real Estate, Power Plants
Export Capabilities:
750,000 garment pieces a month
Clientele:
Haggar, H&M, Kappahl, Debenhams, Sears, etc
How do you see the prospects of Bangladesh apparel industry this year, especially in view of the recent incidents in the country?
Bangladesh has always been an inviting land for retailers. Brands come to us as we offer them a level of service that has grown with excellence over a period of almost over 30 years.
The recent incidents in the country, including Rana Plaza building collapse, Tarzeen and Spectrum fire accidents, have impacted our corporate sensibility. The manufacturers are going to be massively challenged with fire safety and building code issues. However, there are promises of growth in Bangladesh and in spite of the recent tragedies the readymade garment (RMG) sector shall continue to offer its best to the buyers.
In order to move this industry forward, we need to be positively working toward bettering our operational and compliance practices. The garment industry in Bangladesh needs to be understood in totality. The industry needs infrastructural support along with price support from buyers. The workers need to be paid more and every year a 10-15 percent increase in their salary cuts into the manufacturers' margin. The buyers are certainly not increasing their prices and there is a huge demand to increase productivity, which is not always achievable.
Therefore, we tend to secure contracts at extremely competitive prices that may not benefit us at the end of the day. With low margins and growing costs, and with the RMG sector being confronted with the possibilities of buyers shifting markets, the scenario gets to be increasingly difficult. So, we keep on striving to improve the workers' issues (mainly wages) while there is a lot left to be done by the importers in terms of pricing.
At the end of the day, we need to address the concerns as we definitely need to keep the business in the country. We are still a developing nation and we have a long way to go in terms of learning from tragedies. As a sector, I think, we are going to move forward with positive energy, simply because we still offer the world the capacity, efficiency and competitive prices.
The second half of 2013 may not experience a growth. We are still reeling from the negative consequences of frequent strikes and we have had suffered with regard to export and import. In spite of factories being able to operate during strikes, the workers' absenteeism is massive and we have difficulty sending our trucks to Chittagong port. The same applies for import. Without us being able to feed our raw materials to our lines, we do not achieve our targeted production pace. Therefore, we may not see much increase in exports this year.
Published on: 28/05/2013
DISCLAIMER: All views and opinions expressed in this column are solely of the interviewee, and they do not reflect in any way the opinion of Fibre2Fashion.com.