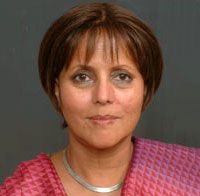 Ms Shailini Sheth Amin
Founder & CEO
Moral Fibre

Company Details
Business Area:
Fabrics, Furnishings Feel-well-Fashion
Export Capabilities:
3,50000 meters annually
Clientele:
UK. US, Europe, Australia, New Zealand
Your group is expert in Khadi textiles - organic fabrics. How do you see current market dimensions, world over developments, and India's potential in this sector?
Khadi (and other sustainable fabrics) needs a vision not because of Gandhi, but because we may be the only country in the world, that has an ability to create this very unique, completely eco-viable, luxury fabric.
Potential Markets
Our experience and experiments show us that there is a growing demand of this kind of sustainable and 'almost carbon neutral' fabrics abroad. The higher cost may not be a big issue compared to social and environmental benefits they promote and present in the export markets. The new breed of designers and suppliers are constantly looking for new sustainable fabrics. Big buyers including Walmart, Tesco and Marks & Spencer are all consistently increasing their buying and promotion in this market area every year. We also see slow but marked development in the Indian market.
The challenges for tomorrow's textile industry
Increasing prices of raw material-due to scarce availability of resources-and active environmental protection are the challenges faced by a future-driven textile industry. Being successful in the market place requires taking responsibility when it comes to environmental and consumer protection and prioritizing the ecological footprint as a prerequisite in corporate strategies. Decreasing production cost by good and effective management, increasing competitiveness and long-lasting innovation speak for commercial success.
Critical consumers
The number of demanding and critical consumers requesting transparent value chains and high-quality, harmless and environmentally safe products is constantly growing. This is a challenge that future-driven businesses have to accept long before politics, legislators or authorities force them into a new way of thinking.
Environment, health and safety as a strategy
The future of the textile industry in India for increasing its global presence lies in the hands of brands and retailers that guarantee non-harmful products for people and the environment. Standards and industry initiatives help these companies establishing sustainable products without compromising functionality, quality or design.
Shift in Industrial hubs:
During and after recession, India & China have become major industrial hubs. Their economy is improving day by day. Today, India has a significant role to play with or without global pressure. We believe that new growth in the textile industry can be primarily based, on people's energy, and, renewable energy. By promoting sustainable textile industry and Fair-trade in a committed way, India can emerge as a world leader. We can do this without costing our natural resources and harming the environment.
*******
Published on: 27/06/2011
DISCLAIMER: All views and opinions expressed in this column are solely of the interviewee, and they do not reflect in any way the opinion of Fibre2Fashion.com.