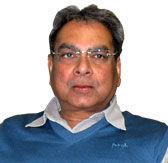 Mr Pramod Prahladka
VP Marketing
Motilal Dulichand Pvt Ltd

Company Details
Business Area:
Narrow Fabrics, Ropes, Cords, Straps, Shoelaces, Webbings, Home Furnishing Accessories, Mountaineering Ropes
Turnover:
Rs 25 to 30 crores
Export Capabilities:
Exports-3 million meters; Domestic-7 million meters
Clientele:
All over Europe
How is India poised for growth in Narrow Woven Fabrics?
The term 'Narrow Woven Fabrics' covers a wide range of assorted goods even though it applies to products no broader than 15 cm in width. These fabrics find application in almost all aspects of human life throughout the world and to all section of society, i.e. urban or rural, rich or poor, men or women, adult or child.

For ease of understanding their application further, these fabrics can be divided into two categories: 1) Industrial Application like lifting slings, straps for harnesses, hemming and reinforcing in bags, tents, coverings, parachutes and so on; and 2) Non-Industrial Application like elastics, cords, webbings, tapes, laces, frills etc. used in Garments, Home Furnishing, Shoes, Bags, and Handicrafts as accessories.

Domestic Market: Application of Narrow Woven Fabrics is so diversified and vast in India that in the on-going industrial growth and expanding consumer base, the market for these products is in the upward movement. In view of the technological advancement, quality enhancement will certainly be a factor in the emerging competitive environments within the country as well as outside.

Export Potential: Manufacturers in India have two major advantages: abundance of raw material and availability of cheap labour. These advantages coupled with technological edge now available have placed India at a strategic advantage. We see, huge potential for growth in export of these products for both industrial and non-industrial sectors including haberdashery.
*******
Published on: 02/03/2011
DISCLAIMER: All views and opinions expressed in this column are solely of the interviewee, and they do not reflect in any way the opinion of Fibre2Fashion.com.