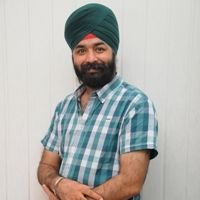 Amardeep Singh
General Manager Operations -Embroidery Division
Orient Craft

'In export markets, the trend in terms of embroidery, is towards matte finished threads'
What are the different kinds of innovative embroidery being used in garments? How are laces being used in high-fashion garments? What is trending in embroideries on garments being exported?
Applique work, chemical laces, 3D laces and sequin embellishments are being used in apparel the most. International brands are incorporating floral and geometrical designs, which are used generally on necklines, hemlines and sleeve cuffs.
Laces are used to define neck lines in high-fashion garments. These are also used to join two components of a garment and to highlight edges of garments.
In export markets, the trend in terms of embroidery, is towards matte finished threads. In a few cases, thicker yarn is used to give an outline in floral embroideries. Colour combination varies for different age groups. For kidswear, bright colours are used while for adults, dull threads are more common.
Published on: 06/07/2016
DISCLAIMER: All views and opinions expressed in this column are solely of the interviewee, and they do not reflect in any way the opinion of Fibre2Fashion.com.