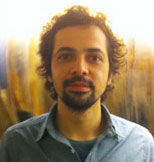 Mr. Burak Baykaldi
India Head
Orta Anadolu

Company Details
Business Area:
Manufacturing & Exporting Denim Fabrics
Turnover:
EUR 200000/ annum
Export Capabilities:
60 million meters/annum
Clientele:
Europe, Asia, US
What are major movements in Denim market around the globe?
For recent year concluded, the sector has seen a fall of at least 15 to 20 per cent in denim demand in the global market. A brand which last year used to buy a 1,000 meters fabrics, is buying 700 meters this year which means almost a 30 per cent reduction in sales.
There are always ups and downs in denim, in some parts of the world it grows, while in others it goes down. At the end of 2010-11, because of a spurt in cotton prices, there cropped up demand for alternative blended fabrics instead of denim.
Europe's situation is obvious to everyone. The European community is uncertain about its future. So India, Bangladesh, Hong Kong and China shall be potential markets to be explored to get a share of the local brands for if a fabric brand sticks to one market, it would be finished in a couple of years.
Production wise, the denim market is moving to Far East and it will build a welfare community with an increasing consumption. When you analyze the previous movements on the globe, the closest example can be China. As you can see the productivity came with the needs in social and cultural life. Now it is a huge market for all brands, whether mass or premium. It means, the consumption is also moving across the world from west to east.
The current volumes of sales by European brands in India is not very big and hence, there is a growing market in India for the European brands for next five years. India is an expanding market for both global retail brands as well as for Jeanswear manufacturing.
Currently, European brands are in the entry level in the Indian market. Bigger brands like Levis and Pepe have a more dominant presence and other European Brands are expanding through licensee operations. However, the current volumes are also not that big.
For a foreign brand entry into Indian market, one has to be prepared for huge price competition. Also, the current levying of import duty on foreign fabrics bring additional cost to the per metre price of the fabrics on offer.
Quality and new researches as well as development shall remain the key strategy to grab market share according to the varying needs of the communities.
*******
Published on: 13/01/2012
DISCLAIMER: All views and opinions expressed in this column are solely of the interviewee, and they do not reflect in any way the opinion of Fibre2Fashion.com.