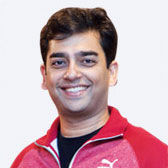 Abhishek Ganguly
MD
Puma India

'As a brand, Puma is always looking for new and innovative ways to inspire people to run'
Company Details
Business Area:
Software solutions
Clientele:
Business enterprises
There are quite a number of brands stepping into the sports lifestyle category. What is Puma's strategy to counter that? Why a website for runners in India?
Our products lead our marketing storytelling and with new investments in marketing assets such as Arsenal and Rihanna to showcase our technology, and our product innovations are going to get even better.

In cricket, we have key Puma players this World Cup, but our marketing and consumer engagement stories are always linked to the key product stories from our stores.

As a brand, Puma is always looking for new and innovative ways to inspire people to run. Puma India has a tremendous focus on the category of running, training and fitness. It is our intent to support the running community and provide them with assets of value.

Tracmyrun.com is a first of its kind platform that allows runners to compare their time and progress with themselves and other runners, and thus motivates them to perform better.

Published on: 10/03/2015
DISCLAIMER: All views and opinions expressed in this column are solely of the interviewee, and they do not reflect in any way the opinion of Fibre2Fashion.com.