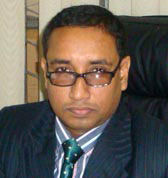 Mr Shahidul Islam
MD
Rajmoni Apparels (Pvt.) Ltd.

Company Details
Business Area:
Knitwear RMG Manufacture, Export and buying house
Export Capabilities:
5 lac pieces/month
Clientele:
USA, UK, SPAIN, ITALY, POLAND, SOUTH AFRICA
How is RMG sector in Bangladesh performing presently? What all bottlenecks your line players suffer in course of good growth?
At present Bangladesh is the hub of garments sector across the world, because China shifted its textile and clothing industry to other higher technology, India also followed same, Pakistan and Srilanka did not perform good due to the their internal militant crises, so buyer has no option than coming to Bangladesh.

On the other side, from last 3 decades Bangladesh garments sector archived larger scale quality, skilled manpower and professionalism. In a word we can say over the last 3 decades Bangladesh made itself as big tree in the garments sector over the globe.

As bottlenecks, our kind of players are suffering mainly shortage of worker, some times worker unrest, infrastructure issues like power shortage, gas shortage, etc. We are also suffering from low pricing of the goods. The price that we get from buyers does not give return on all our cost of production including minimum wages as recently, worker, leaders, Government and BGMEA have placed minimum wages scale to high range.
We are also facing high duty in USA port; we need duty free access to USA market, because more than 50% goods are going to USA market.
*******
Published on: 31/03/2011
DISCLAIMER: All views and opinions expressed in this column are solely of the interviewee, and they do not reflect in any way the opinion of Fibre2Fashion.com.