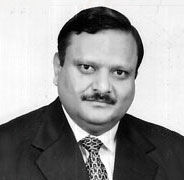 Mr. Satish Kumar Singhal
MD
Rama Tex Process House Pvt Ltd

Company Details
Business Area:
Fabric Processing includes- • Bleaching • Dyeing • Enzyme Finishing • Finishing • Mercerizing • Pre-shrink Finishing • Singeing • Zero-zero Finishing • Water Repellent Peaching
Turnover:
8.5 crores,annually
Export Capabilities:
Export & Domestic about 60000 meters /day
Amidst developments in textile industry, how is the textile processing market taking shape?
Development in textile overall, is not so good because of low demand in the exports. The textile processing market obviously therefore is not in a good shape currently, and in the near future too scene would not be rosy because of the growing competition in the market and the low price of the dyeing fabric. To add to this, the raw material prices are going too high, resulting into much higher production cost and shrinking bottom-line.
The decrease in price plus the competition with other industries and low demand in export-destinations as well as local market in spite of festival season, etc.. are several issues by which textile players are hard pressed, presently.
Europe is main export market for India. Total 70% of Indian textile and clothing products are exported to European and American countries, and 30% to other countries. The financial and other macroeconomics factors are playing part in this year on year slow down in demand.
Besides, technological advancement, infrastructural up-gradation, good trade and excise policies are some external issues, on which Indian textile industry still needs to improve.
*******
Published on: 15/11/2011
DISCLAIMER: All views and opinions expressed in this column are solely of the interviewee, and they do not reflect in any way the opinion of Fibre2Fashion.com.