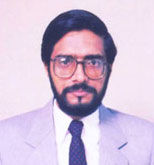 Mr. Arup Basu
Managing Director
Refnol Resins and Chemicals Ltd

Company Details
Business Area:
Textile Chemicals viz. Textile Sizing Chemicals, Textile Auxiliaries and Garment Wet Processing Chemicals
Turnover:
INR 300 million
Export Capabilities:
Over 500 Tones per month of various products
Clientele:
UAE, Bahrain, Jordan, Egypt, Israel, Netherlands, Belgium, Turkey, Italy, USA, Colombia, Vietnam, Indonesia, Thailand, Bangladesh, Pakistan
Refnol has seen long years with textiles chemicals and auxiliaries segment. Please share with us your view about its present state in the world as well as in India.
Textile Chemicals and Auxiliaries can be broken up into auxiliaries for fabric processing and finishing, sizing chemicals and garment wet processing chemicals. We are more active in the last 2 categories and do business for many years both in the Indian market and overseas.
The market for all categories of textile chemicals is a growing one in India and its immediate neighbors i.e. Bangladesh and Pakistan along with a small market in Sri Lanka.
Then there is good potential for growth in Indonesia, Vietnam and to a lesser extent Thailand, which is a more mature market and where the textile industry is not growing.
But, at the same time, despite good growth potential, competition is fierce in these markets and only those companies that can provide better value and innovative products can thrive and make profits in this scenario.
The prospects in the coming year are moderately optimistic as many fabric and garment manufacturers have put investment plans on hold due to the global slowdown and lack of demand from major markets such as the USA and Europe.
However, the nature of the textile industry being such and catering to a very vital need, growth plans can only be deferred and not put off indefinitely. Long term prospects are therefore good.
Textile chemical producers that can cater to the specific needs of the growing technical textile sector will reap the benefits and the emphasis for companies must be on innovation and development – something not always easily possible by medium and small producers in India - and these are the majority in this sector.
The dominance of the multinational chemical producers in this sector, especially with corporate clients, can only be met by giving better service & value and innovation to give products for specific needs for individual customers. This is the challenge for the future.

*******
Published on: 14/02/2012
DISCLAIMER: All views and opinions expressed in this column are solely of the interviewee, and they do not reflect in any way the opinion of Fibre2Fashion.com.