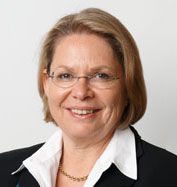 Ms.Edda Walraf
Vice President Marketing
Rieter Machine Works Ltd

Company Details
Business Area:
Producer of textile machinery and automobile components
How important is the upcoming trade show ITMA Asia + CITME 2014 for the textile machinery trade worldwide? How does the show help the firms to meet their Asian customers?
The ITMA Asia +CITME 2014 is one of the biggest exhibitions were textile machinery firms can present their products and services to the Asian market.
With its full-fledged facilities (production, sales, technology, after sales services, etc) in China as well as in India and its area-wide agent network in all other Asian countries, machinery companies are able to respond to customer's needs in a very comprehensive way. This is why the ITMA Asia perfectly meets the market strategy of machinery companies.
For instance, Rieter carefully selects its exhibits for all the exhibitions according to the needs of the market. Therefore we are convinced that the R 60 rotor spinning machine, the J 20 air-jet spinning machine and the G-32 ring spinning machine, which will be exhibited at ITMA Asia, will attract high attention from the visitors at the show. These 3 machines cover all four spinning systems - ring spinning, compact spinning, rotor spinning and air-jet spinning.
Rieter is the only supplier to advice customers with know-how relating to financing, spinning mill planning, use of the right technological elements, selection of the correct spinning process as well as many other competences necessary to achieve success in the operation of a spinning plant. The Rieter booth and all exhibits represent this wide range of competences.
With the SB-D 22 draw frame, Rieter is presenting for the first time its double-head unregulated draw frame ensuring maximum productivity at delivery speed up to 1 100 m/min and a unique automatic can changer up to 1 000 mm. This draw frame perfectly meets the needs of Asian customers and we therefore expect a lot of discussion about this new product.
Beside the exhibits which are presented live on the booth, the Rieter staff will present many other highlights by means of multimedia tools such as touch-screens, big screen and iPad.
Rieter expects an exhibition similar to 2012 with slightly more visitors and is looking forward to meeting the Asian market at the ITMA Asia + CITME 2014.
- Ilin Mathew
Published on: 09/05/2014
DISCLAIMER: All views and opinions expressed in this column are solely of the interviewee, and they do not reflect in any way the opinion of Fibre2Fashion.com.