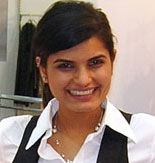 Ms. Pooja Lalwani
Director
Romano Apparels Pvt. Ltd.

Company Details
Business Area:
Design, Manufacture, retail and export of children's fashion garments
Export Capabilities:
4500 pieces / day
Clientele:
India, Australia, Saudi Arabia, Dubai, Iran, Ukraine, Egypt, South Africa
What is your reading about the current world apparel market? What are the challenges faced? How do you see consumer behavior today?
The world Apparel Market is always in a state of constant and vigorous change and innovation. Labels today have the added pressure of the high prices of raw materials as well in tackling with the bottom line decisions and issues. India has always been a fore-runner in the fashion industry. We are a creative lot of people and it is the rich culture and hard work that brings out the best trends and fashion from our country. Our brands and designers are enjoying an increased amount of recognition, stature and respect on the world fashion stages across the world.
Locally, however, the scenario is getting to be more and more difficult for garment manufacturers in the country. The Government has not only burdened the sector with the enforcement of some of the recent taxes like Excise, VAT on increased number of products, increase in service tax, etc. – but manufacturers also face the steep increase in raw material and labor costs in the country. All this, along with the current economic slow down being witnessed world wide – has greatly shrunk the profit margins of Indian manufacturers.
The customer has become very price conscious – demanding much more for his rupee. He is more aware about trends and quality than before – and does not shy away from patronizing value offerings in terms of sales, discounts and promotions.
*******
Published on: 09/04/2012
DISCLAIMER: All views and opinions expressed in this column are solely of the interviewee, and they do not reflect in any way the opinion of Fibre2Fashion.com.