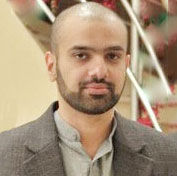 Mr. Yasir Saeed
CEO
RY International

Company Details
Business Area:
Socks Manufacturing, Product Sourcing & Quality Audit Services, Strategic Advisory Services: Sales, Marketing, Digital Media, Promotion of Trade Fairs, Human Resource, Financial
Turnover:
USD 100 million per year
Clientele:
US, Canada, Europe, South America, Australia, China, Bangladesh, South East Asia, UAE
How do you see worldwide socks sector shaping up amidst various geographical, socio-political, economical set of happenings? How do you envisage its future growth pattern?
Global recession has had a huge impact on the demand for all types of socks worldwide. Consumer spending has greatly decreased and lifestyle changes have occurred around the world.
Besides, cotton from Pakistan has great demand in international market due to its high quality and that is why our sports socks, athletic socks and performance socks are widely popular.
Moreover, cotton prices have hiked up in last two years which has a major effect on the prices of cotton products. So, overall demand has been shifted from pure cotton to mixed cotton products. Apart from this, the demand for synthetic socks has increased comparatively.
In the last few years, the profitability of socks manufacturers has also decreased worldwide because retailers and importers are not increasing the prices in same ratio as the production cost is increasing which includes cost of raw material, processing cost, labor cost, fuel and electricity.
There are many competitors in socks manufacturing such as China, Turkey, Europe, Korea, Mexico, Honduras, India, UAE, Bangladesh, Japan etc. Every country has their own socks expertise; for example - China for dress socks and synthetic socks, Turkey and Europe for high end socks etc.
Apparently, new markets have to be developed for future growth of socks industry. Companies have to do a lot of work on Research and Development, Technology, Increase in Efficiency, Local Development of Raw Materials, etc. to remain competitive in low to high end products. Low priced products have to be developed to target the major population of the world. Special products have to be developed for high end consumers and specific requirements (medical, sports, outdoor, performance, dress, children, women, etc). Development of technical features and fiber contents of socks also requires innovation.

Those who will build competency in above mentioned areas will be the most successful exporters in future.

*******
Published on: 23/02/2012
DISCLAIMER: All views and opinions expressed in this column are solely of the interviewee, and they do not reflect in any way the opinion of Fibre2Fashion.com.