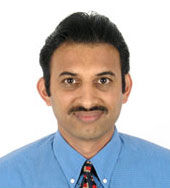 Mr. Ravishankar Seshan
MD
Ryyty Apparel Resources

Company Details
Business Area:
Garment accessories for Clothing industry, Corporate & Work wear, etc.
Clientele:
India, U.S.A, EU but exporting to their vendors in Bangladesh, Srilanka, China, Vietnam, Philippines, Indonesia, Mexico, Egypt, etc.
How do you see the garment accessories sector faring currently in India and abroad? Any concerns that you would like to voice?
The growth of garment accessories sector is directly proportionate to the growth of the clothing industry since trims are components of garments.
Having said that, it would also be appropriate to add that the garment industry has evolved in a big way in the last one decade, thanks to the Indian consumer who is looking for new fashion and trends. The young consumer has buying power, has the exposure of travelling to countries like the US and in the EU and is familiar with the latest trends in fashion. As a result, demand for fashion accessories and trims have increased in the last few years.
Unfortunately most of these fashion accessories are not made in India and hence the spurt in import of fashion accessories into India. However non availability of indigenously made good quality raw materials and latest technology is affecting our capability to do many such products out of India. The Government has done precious little to help the clothing industry and so to talk about promotion of garment accessories industry is too premature! Since we are a company based out of HK and have our operations in China we have been able to capitalise on this opportunity.
In addition to this, more and more customers in the US and EU are insisting on compliance of REACH standards on all products. This has ensured that the quality standards of accessories / components also are upgraded. This is in line with our quality policy and we are able to meet customer requirements due to our compliance.
In today's recessionary market where clothing industry in India or even the US or the EU are quite sluggish, the challenge is to sustain the growth. Customers are looking for cheaper production centres like Bangladesh, Laos, Vietnam, etc. and this is surely affecting our business. Even Domestic Indian brands are outsourcing their garments from Bangladesh due to the duty free import of garments at much cheaper prices from that country. Garment exporters must focus on newer markets like Latin America, Australia etc.
As a company we are geared to meeting these challenges by expanding our operations into these countries.
*******
Published on: 24/08/2012
DISCLAIMER: All views and opinions expressed in this column are solely of the interviewee, and they do not reflect in any way the opinion of Fibre2Fashion.com.