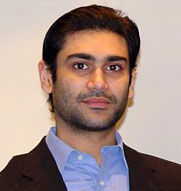 Mr Jehanzeb Amin
CEO
Samin Textiles Ltd

Company Details
Business Area:
Manufacturing Greige fabric for bottom weights, work wear, industrial fabrics & home textile markets.
Turnover:
Annually approx US$ 36 mn.
Export Capabilities:
Annually 24 mn linear meters (70% exports + 30% Domestic)
Clientele:
Germany, Holland, Spain, Portugal, Italy, France, UK, USA, China, Vietnam and Russia.
Your group marks specialization in Fabrics. Kindly apprise us with moves in global fabrics sector, in particularly in abrasives and coatings? What difficulties confront players in this line?
Difficulties faced by fabric manufacturers:
Oddly enough the greatest difficulty faced by fabric manufacturers in Pakistan is not related to the textile business but industry in general. The number one problem is the national energy crisis. Today, Pakistan faces an energy shortfall of 8000 MW. Most mills, including Samin have invested in multiple captive energy sources over the years. Starting with diesel, we moved to furnace oil and then to gas. Currently, there is a shortfall in gas supplies of 220mmcfd in Punjab and we have had to install a connection with the national grid. Electricity supply from the grid is also unreliable with average load shedding of up to 17%. Not only is this having a catastrophic effect on our costs, but timely deliveries and quality of product are also at risk.
The next most pressing issue for fabric manufacturers is heavy contamination in the local supply of cotton. Pakistan produces 15 million bales of cotton annually but about 30 % is contaminated. There is currently a project underway in conjunction with USAID to improve levels of contamination by directly involving farmers, ginners and spinners. Hopefully by 2013 we will have a good percentage of local contamination free cotton, which will give the local industry a much-needed edge.
While this process is underway, Pakistan still has to import contamination free cotton and this is where another major problem comes in. During the past five years, Pakistan's currency has seen a devaluation of approx. 43%. In 2006 dollar rate was Rs 60 and today it is Rs 85 approx, making the import of cotton increasingly expensive.
*******
Published on: 13/06/2011
DISCLAIMER: All views and opinions expressed in this column are solely of the interviewee, and they do not reflect in any way the opinion of Fibre2Fashion.com.