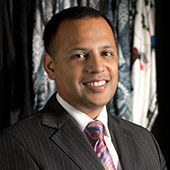 Amit Jain
Managing Director
Shingora Textiles Ltd

'In terms of fabric, the fastest growing category for us is a blend of cotton and silk stoles.'
Company Details
Business Area:
manufacturer of premium quality shawls, stoles and scarves for men, women and kids.
Clientele:
Armani, Ralph Lauren and Paul Smith
What benchmarks in design and production need to be met in the manufacture of stoles and shawls for high fashion brands? What is the market size and growth percentage? What is trending in the export?
When it comes to designing for high fashion brands, exposure to what is going around in the world is important. With this, one needs to know trends in Paris, London, and Milan Fashion Weeks. The designer must also be in tune with the Indian market. Keeping up with social media is also important. Knowing how people react to certain situations has huge impact on influencing design trends.
On the production side, having a state-of-the-art manufacturing facility and zero defect products are essential. No consumer is ready to pay for something that is not of top quality. Another aspect is being ethically, environmentally and socially responsible as a corporation. That is vital.
In an organised sector, the luxury scarves/shawls/stoles market is estimated to be between Rs 50 to 60 crore at a retail level. Stoles are definitely a higher selling product than shawls. In terms of percentage, stoles account for 60 per cent while shawls account for the rest of the sales.
Since the category of stoles has moved from being a more functional product to a fashion accessory, it has grown to occupy a larger share than shawls in the category of fashion accessories. However, in the current market scenario, growth of stoles is largely flat. Within Shingora, we have grown 15 per cent year-on-year. If the Modi government plays out in favour of the industry, then 20 per cent growth can be expected in the next two years.
In terms of fabric, the biggest selling category for us is of woollen stoles. But the fastest growing for us is a blend of cotton and silk stoles. Export markets are extremely fashion driven. Larger and oversized stoles are trending in the export market. Yarn-dyed jacquards with eclectic designs are performing well. The designs for export markets are either very basic or extremely diverse.
Published on: 04/04/2016
DISCLAIMER: All views and opinions expressed in this column are solely of the interviewee, and they do not reflect in any way the opinion of Fibre2Fashion.com.