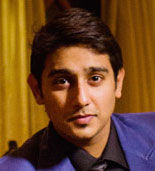 Amrit Sethia
Chief Operating Officer
SOIE

Company Details
Business Area:
Lingerie and Apparels
Clientele:
France, Italy, Spain, Germany, Belgium, US, UAE and Egypt
What are the emerging trends in the intimatewear category for women in terms of fabrics, styles, colours, and prints? What do consumers consider while buying intimate clothing?
The intimatewear category in India is slowly becoming trend-sensitive. Consumers are considering style, comfort and good price while making their purchase. However, when it comes to fabric, cotton is in most demand and we don't see it changing despite changing trends, considering the weather. Nonetheless, fancy fabrics like lace and polyamide are preferred for fashion styles.
In the domestic market, non-wired padded bras are picking up. A considerable number of clients are buying push-up bras also. In the international market, demand is more for wired padded bras with different fits like push-ups, balconettes and decollate.
In terms of colours, the most common have always been black, white and beige, but of late there is demand for bright shades. There is a fancy mélange colours being used these days to give different looks, apart from the basic, solid colours.
In prints, it is normally small prints since they do not show much from under the outerwear. But some of the younger generation are open to buying bold prints. There will be a lot of prints in the near future. Digitally printed fancy bras and panty packs are the must-haves for the coming season.
With intimate apparel considered second skin, are the boundaries between intimatewear and shapewear slowly merging? The two products are used for different purposes. We don't think the boundaries will merge for these two categories. Shapewear is usually for occasion-wear.
Published on: 17/11/2015
DISCLAIMER: All views and opinions expressed in this column are solely of the interviewee, and they do not reflect in any way the opinion of Fibre2Fashion.com.