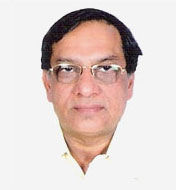 Mr. Ajit Lakra
Managing Director
Superfine Knitters Limited

Company Details
Business Area:
Manufacturing of Knitted Fabrics and Knitted Garments
Turnover:
INR 650 million
Export Capabilities:
200, 000 Garments / month; 50% Export, 50% Domestic
Clientele:
USA, Brazil, South Africa, Canada, France & UAE
What is your observation on global knitwear industry; current movements, growth potential, areas of difficulties, etc.? Which countries shall be performing well & which shall remain good clients?
Global Knitwear Industry is very big and has a vast potential for growth but only in the cheap labour countries as it is a labour intensive industry. The main countries of production are China, India, Bangladesh, Pakistan, Thailand, Vietnam etc.
Currently the industry is going through a bad phase because of overall global slowdown. The European market is bad; there is no demand. There is an economic slowdown in all business sectors so their import is at the minimum level. The whole of Europe depends on these countries (India, China, Bangladesh, etc.) only since they don't manufacture themselves. The garment imports in Europe are also much less; the volumes are not very big. Therefore the business will automatically come down in these countries.
Likewise USA, though it may be comparatively better than Europe, is also in bad shape. So, the slowdown is worldwide.
Moreover, when there is a big gap in the demand and supply, when supply is more and demand is less, then the customer dictates you. The overall cost of production in all the countries has gone up. In China labor charge has gone up while in India labor as well as cost of electricity has gone up.
Cotton yarn sector, since the last 2 years is in a very turbulent state. In India, since 2 years, yarn rates were somewhere around Rs. 105-110 per kg which went up to Rs. 250 last year, and then suddenly it dropped but not below Rs. 180. Now, currently it has again gone up to about Rs. 195.
This means that the overall cost of garments has gone up and due to inflationary effects in all the countries and the slowdown; people are not in a position to buy as many garments as they used to buy. So when there is less demand and more supply and when your cost of production has gone up you are unable to command a good price. This leads to the profitability of the units coming down because when the units are not working up to the full capacity due to which per unit cost goes up while the profits come down.
Besides, since it is a labor intensive industry, there are a lot of job losses following the situation. He expanding capacity reduces and the industry is not expanding right now. Garment is an essential element like food but people may defer because the priority of buying garments may not remain a priority when you have yet to pay for your house, or your car and education, now that education has become so expensive. The priorities change with changing economic cycles; when people don't have jobs they won't buy as many garments as they used to.
(Contd.)
Published on: 18/07/2012
DISCLAIMER: All views and opinions expressed in this column are solely of the interviewee, and they do not reflect in any way the opinion of Fibre2Fashion.com.