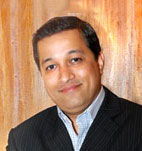 Mr. Asim Dalal
Managing Director
The Bombay Store

Company Details
Business Area:
Apparel & Lifestyle Retail
Turnover:
Approx. INR 32 Crores
Export Capabilities:
17 Outlets in West & South India
Your group has seen mutually exclusive phases of the society: one, as protectionist being Swadeshi, and the recent oriented towards Globalization. How has retail scene changed amidst this shift?
Our company came into existence in 1905 with the idea of promoting Indian handloom, Indian handicrafts and to promote Indian artisans. The great Indian patriot, Bal Gangadhar Tilak, along with eminent industrialist and businessman Sir Ratanji Jamshedji Tata revolutionized the idea of Swadeshi and evoked nation's collective consciousness. Thus, The Bombay Swadeshi Stores Co-operative Stores Co. Ltd. came into existence and gave the people an idea of what their homeland was capable of producing.
We began in an era where there was no organized retail. However, today the industry has evolved to the organized retail. The retail scenario has transitioned from being 'mom & pops' stores to high-street to shopping centers and malls. These new formats benefit consumers and retailers both, giving increased choice range and more comfortable environment to work with, thus better shopping experience.
Today, price is not the only consideration. One should take note of the fact that 'I' conversion time has increased in the sense that today a Consumer comes, s/he looks at the product, tries to understand, checks other brands to compare, then comes back again, and then decides. Thus Consumers want to be sure that they get the best deal.
Consumers' perception is also shifting from the "Current & Contemporary" into "Now" (Fast Fashion) and Visual Fluency. The ongoing shift from words to images is accelerating, and we are increasingly seeing innovative ways to explain and illuminate our products and services. In the view of this, we at The Bombay Store have paid great attention to visual merchandising. Therefore, our mission clearly states that we would like our customers to 'Discover a New India' through our innovative range of products reflective of a blend of contemporary and traditional Indian culture.
Shopping experience too has transitioned from earlier 'be content in what is available', to a more convenient 'everything is available under one roof' format. Talking about apparels in specific, the advent of departmental stores or multi-brand outlets has definitely taken off compared to stand alone apparel stores because one can get number of brands under one roof. People have no time to wait for their clothes to get stitched, be it formal or casual, everything is available.
(Contd.)
Published on: 03/01/2012
DISCLAIMER: All views and opinions expressed in this column are solely of the interviewee, and they do not reflect in any way the opinion of Fibre2Fashion.com.