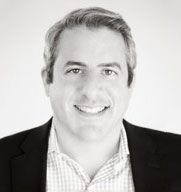 William R. Adler
CEO
True Fit

Company Details
Business Area:
Big Data & Personalization Software
Clientele:
Major retailers and brands
How is technology helping retailers to enhance the shopping experience of consumers?
Fashion is a form of self-expression, and data gives consumers confidence to be true to themselves. Retailers are uniquely positioned to take advantage of massive amounts of rich data to curate personalized catalogs for each consumer. The combination makes for a really exciting trajectory in the footwear and apparel industry, continually improving consumer experience and service.

Retailers across the globe are leveraging data to improve the shopping experience for customers. Whether it's House of Fraser in the UK, Hudson's Bay in Canada, or Nordstrom in the US, retailers understand the role data plays to help them better serve their customers' increasing expectations of curation and service.

Increasingly, technology has refreshingly blurred old lines between digital and brick-and-mortar channels. We know the harmony that consumers feel shopping seamlessly between different channels as they leverage digital platforms. Retailers are making amazing strides bringing rich online product information, content, and tools into their stores, as well as advancing their online shopping experience by leveraging data and great enhancements online. Ultimately it's about seamlessly bringing consumers a curated set of great styles wherever they are.

True Fit helps retailers advance the final two barriers to more expansive online apparel and footwear shopping: "fit" and "instant gratification". Implementing big data, fit personalization solutions like True Fit helps retailers find the best styles for them immediately.

Technology enables better curation and service, and that is the art of great retailing. Retailers who are passionate about this are leading the way as always.

Published on: 12/02/2014
DISCLAIMER: All views and opinions expressed in this column are solely of the interviewee, and they do not reflect in any way the opinion of Fibre2Fashion.com.