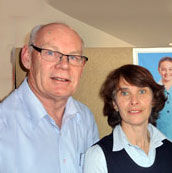 Diane & Charles Cook
Founders
Uniform City

Company Details
Business Area:
Custom made uniform/work wear manufacturer
Clientele:
State of Tasmania, web portal covers all States and territories of Australia
How is the uniforms sector different from the apparel sector? What are the current trends? What challenges do players of your kind come across on your path to better growth?
The uniform market is a niche market or segment market and different than the apparel market. Corporate Uniforms tend not to be so trendy defaulting to more classic styles. The corporate business market captures girls (18-24 year's old) with slimmer figures and more mature females (50-55) who tend to have more varied body shapes.
As such, Uniforms need to cater for all ages across all body shapes. There is also the less formal corporate apparel, for example Polo-shirts and soft-shell jackets which are relatively inexpensive. All uniforms are usually branded with corporate logos. The market spans all occupations and uniforms are different for every industry.
The trend now in uniforms is to be more casual. Corporate wardrobes are still very popular with larger companies. However, we are seeing that businesses from as few staff as 5-25 want soft shell vests/jackets, polar fleece vest/jackets, casual trousers, casual shirts and smart polo tops - all customised with the company logo.
Small businesses are also embracing the concept to project a more professional image and staff also look neat and smart and are easily identifiable. The business also projects a more professional image with well fitted out staff which in turn gives customer's confidence.
It is a very competitive market. We tend to cater mostly to the local market –where clients can touch, feel and try on sample sizes rather than purchase online - at least for the moment.
The main challenge would be trying to cater to companies with a wide range of sizes whilst balancing looking smart without being overly fashionable. There are five essential criteria for a good uniform:
Smart looking;

Good quality;

Distinctive (easily recognisable);

Good fitting range and

Affordability
*******
Published on: 19/07/2012
DISCLAIMER: All views and opinions expressed in this column are solely of the interviewee, and they do not reflect in any way the opinion of Fibre2Fashion.com.