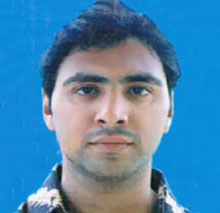 Mr Jaimish Vakharia
Owner
Vakharia Group

Company Details
Business Area:
Grey, Bleached, Dyed and Digitally Printed Fabrics
Export Capabilities:
36 lacs meters/annum
Clientele:
India & Exports: Dubai, UK, USA
What level of popularity of digitally- printed fabrics' exists amongst Indian consumers?
Digital prints are in fashion for 2011-2012 in India. Around 1-2% of Indian consumers own Digital printed fabrics. It is High Fashion Fabrics. It is becoming more popular in India. Many celebrities now days wear this type of prints. Market Size of digital printed fabric is very big in India. As consumers are getting more aware about it, there is very high growth potential in this field. Many International and Indian Designers are using digital printed fabrics in their collections.
Published on: 04/04/2011
DISCLAIMER: All views and opinions expressed in this column are solely of the interviewee, and they do not reflect in any way the opinion of Fibre2Fashion.com.