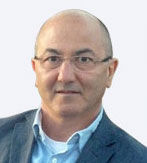 Mr. Charles Benoualid
Vice-President of research and development
Visual 2000 International

Company Details
Business Area:
Global provider of enterprise software
Clientele:
Apparel, footwear, accessories and other softgoods companies worldwide.
How do you see the purchasing confidence of apparel makers as well as how much they are keen to spend on software?
To stay relevant with consumers and competitive in a fast-paced industry, today's fashion retailers and manufacturers are embracing technology across every aspect of their businesses. While IT may have once been considered discretionary, today's fashion companies view it as strategic to their businesses. With a solid business in hand, today's companies are more aggressively adopting software solutions than ever before.
With ever-increasing mandates for speed, quality, and value, many companies are rethinking the way they buy and use technology. Generally, their interests have shifted to industry-proven, out-of-the-box solutions that can be deployed at a fraction of the usual time and cost. They are also consolidating and simplifying their IT strategies by moving to end-to-end solutions that provide greater visibility and control across the entire supply chain.
This faster pace of adoption enables software companies to develop greater and more frequent technological advancements. Of course, all companies must maintain a sound IT budget. Fortunately, many of the advancements in recent years have served to make technology more affordable and practical for small and large apparel firms.
Because the design, development, and sourcing processes account for such a large percentage of the time and cost of fashion products, IT companies continue to invest heavily in developing new and better tools in this area. We believe that these processes continue to hold massive opportunities for reducing cycle times, controlling costs, and increasing product innovation.
The IT companies are also focusing on helping retailers and manufacturers execute more efficiently in today's multi-channel sales and operations environment. This work has resulted in breakthroughs in a variety of areas including e-commerce and mobile sales solutions, as well as in distribution and business analytics on the operations side.
As the fast-paced and competitive nature of the fashion business accelerates, technology will continue to play a critical role in automating processes and enhancing sustainability throughout the industry. So, we constantly endeavor to develop new and better ways to help companies speed products to market, optimize internal and supply chain operations, and manage the omni-channel interaction with consumers.
Published on: 09/10/2013
DISCLAIMER: All views and opinions expressed in this column are solely of the interviewee, and they do not reflect in any way the opinion of Fibre2Fashion.com.