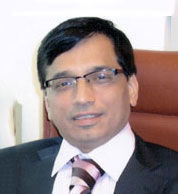 Mr Tilokchand Kothari
CMD
Vividha (Visagar Group)

Company Details
Business Area:
Ethnic-wear Retail (Sarees & Lehengas)
Turnover:
Rs. 800 million
Can you provide an insight to the Saree industry currently, and future of ethnic wear segment?
The Saree market is huge, unorganized and growing at an incredible rate. The 5000 year old apparel has seen rise and fall of regimes and has dominated the apparel market not even in toughest of economic downturns (recession) but has also been growing strongly ever since. ICRA research of 2006 quotes the Saree market size at Rs. 53000 crore, though a more recent one on Ethnic wear by Technopak quotes the Sarees market in 2009 at Rs. 24000 Crore. While the research figures widely divulge from one another, both agree an over 10% compounded annual growth for Sarees in the future, outdoing all other apparel segments.
The Saree as a category is a rather generic term. Over five millennia of existence has resulted evolution spread in bits and pieces across the Subcontinent. The consequence? An intricate mélange of regional and cultural influences over fabrics, draping styles (100 draping styles documented), materials and motifs together with numerous manufacturing techniques have made Sarees 'VIVIDHA' or diverse in truest sense. Each part of the Subcontinent has a unique 'Saree' story to tell!
Until the turn of the millennium, Saree business was primarily a family business, more aptly the 'mom & pop' type. Though corporate identity is slowly being adopted, one cannot worry thinking of the sheer bulk of the unorganized part which makes up most, or rather all, of the multi-billion dollar strong industry. 'My Grandma brought from the same shop' is the type of commitment and loyalty that the unorganized industry commands. Sarees which were primarily sold in cluster of stores- saree markets (like the jewellery store clusters), are now being sold in malls creating a new customer outlook- but are they looking for same set of customers? Whether they garner the same type of customer loyalty through generations- is an interesting thought. The purported 'India's retail growth story' ushered in rental boom which is still to dampen in prospective locations. Market knowledge for corporate entrant is the primary barrier into the Industry. Local customer preferences vary sharply among the regions, confusing the retailer- to carry on with 'niche varieties' or sell regional flavors or be a 'one-stop destination' of 'for-all your Saree needs'. Another hurdle is the 'I design, I produce, I sell' perspective. Given the complexity of the market, unless you are a 'niche' brand, it becomes extremely is challenging to maintain your 'own' portfolio of designs across various Saree types. Identifying short term fad and proper exit timing is the key to be the master of the trade whether as a producer or retailer. Sourcing and training staff for know-how of product is yet another challenge especially when you are on-shoulders with local showrooms run by families and individuals with decades of rich experience.
The Ethnic wear market is a fast growing one- and why it shouldn't be- considering it is a symbol of richness and diversity, closely intertwined with our traditions. Sure, for organised player, the market is huge & untapped. Stakes are usually high when there is too much space to explore and learn as you are at liberty to set your own standards. As this organised space fills up- which it surely will, it is your inherent capabilities (resources) and acquired knowledge of the product, customers and industry that shall count.
At VISAGAR POLYTEX LIMITED, our aim is to build up knowledge, capital and human resources to specialize in designing, manufacturing hand/machine work Sarees & Lehengas (bridal wear) facilitating constant revival of products in innovative ways that will enable guaranteed success for our 'VIVIDHA' brand.
*******
Published on: 17/08/2011
DISCLAIMER: All views and opinions expressed in this column are solely of the interviewee, and they do not reflect in any way the opinion of Fibre2Fashion.com.