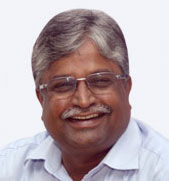 C Kamatchisundaram
Vice President
Voltas Textile Machinery Division

'The Indian textile machinery industry is fully equipped to meet the growing demand of spinning machinery in India'
Company Details
Business Area:
Machines for Spinning Industry, Processing & Finishing, Weaving & Knitting.
How the demand for textile machines in India? How is the gap between demand and supply of textile machines in India?
Well, this question needs to be answered in 3 parts.
The demand for the spinning machinery in India is mainly to create green field and brown field projects. Indian Spinning industry adds 2.5 – 3.5 mn spindles every year and the demand varies depending on the market conditions.
As you may be aware, the Indian spinning industry did pretty well last year mainly due to the significant growth of 25% in the yarn exports – hence, it is obvious to expect that the industry would look for new investments in the current year and the trend is expected to continue in the next couple of years. However, I hasten to add that this depends on sustained growth in the yarn exports and favourable situation of cotton which is the major raw material for the spinning industry.
The situation in the first quarter of current fiscal is a cause of concern as the cotton prices were ruling at high levels and the industry witnessed a negative growth to the tune of 20 – 25 % in the yarn exports mainly due to the reduced demand from China which is the major importing country. However, we opine that this is only a seasonal issue and going forward, the yarn exports is expected to at least sustain the previous years' level. The industry also expects that the cotton prices would ease out. Hence, we expect that the positive sentiments would prevail and the demand for Spinning machinery would be better than last year.
The demand for Weaving machinery emanates from the organised players for new capacity creation and from the weaving clusters (Ichalkaranji, Bhiwandi, Malegaon, Surat, Somanur, Erode etc.) for modernisation of the Power Looms with the Shuttleless looms as India has only very limited capacity of Shuttleless looms. The enhanced capital subsidy and the interest subsidy provided in the RRTUF is expected to drive investments in Weaving machinery both in organised sector and in the weaving clusters. We expect that the demand for new weaving machinery would witness a healthy growth in the next few years.
The demand for Processing & Finishing Machinery did not grow much in the past 2 – 3 years ; however, the factors like improved macro economic conditions, anticipated growth in Garment Exports and stringent pollution norms would drive new investments for high quality machinery in the areas of Processing & Finishing.
The Indian textile machinery industry is fully equipped to meet the growing demand of spinning machinery in India. However, our country depends on imports from Europe and China for fulfilling the need of Weaving, Knitting, Processing & Finishing industry.
-Manushi Gandhi
Published on: 08/08/2014
DISCLAIMER: All views and opinions expressed in this column are solely of the interviewee, and they do not reflect in any way the opinion of Fibre2Fashion.com.