Gangwar inaugurates apparel & garment centre in Dimapur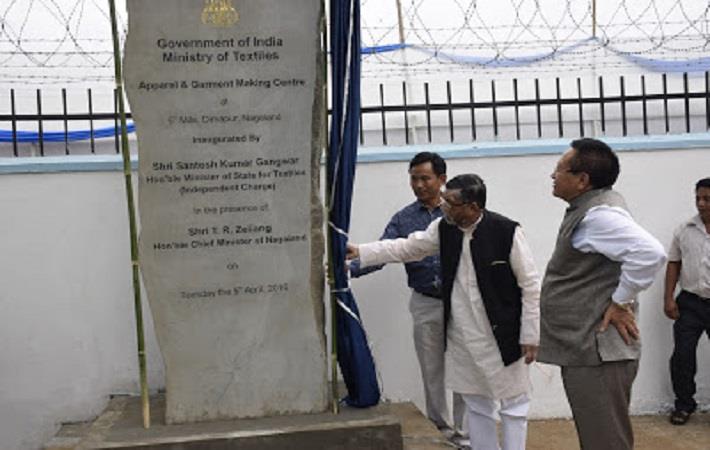 Textiles Minister Santosh Kumar Gangwar has said that the Apparel and Garment Making Centre which has been operationalized in a record time of a little more than one year in Nagaland, can potentially make the state an apparel pioneer in the Northeast.

"The project for construction of Apparel and Garment Making Centres in North Eastern States is one of the most ambitious projects launched in the textile sector by the Government of India; it has the potential to change the landscape of the textile industry in North Eastern India. I am happy that Nagaland has become a pioneer in this revolution in the region. Hope this will take the textile industry of the state to new heights," he said, dedicating the Centre to the people of Nagaland, according to an official press release.

At the inauguration ceremony, he appreciated the support rendered by the Government of Nagaland and also thanked the entrepreneurs for coming forward.

The project to construct an Apparel and Garment Making Centre in every state in the North Eastern Region was launched in Nagaland by Prime Minister Shri Narendra Modi on December 1, 2014. Gangwar laid the foundation stone for the Centre in Dimapur on February 24, 2015.

The Minister said that the purpose of this project is to develop entrepreneurship in apparel manufacturing among the local youth and to provide employment to the people locally in these centres. He noted that the apparel industry is most rewarding in terms of revenue generation as well as employment in the entire textile value chain.

He said that the apparel centres are a small yet significant step in the direction of increasing export share of apparel and garments in overall export of textiles and clothing. He expressed confidence that the enabling policies and programmes initiated by the Government will attract more such investments in the State and help it to emerge as a hub for apparel and fashion industry.

Gangwar also laid the foundation stone for Muga P3 Basic Seed Station Kobulong, Mokokchung and also launched the newly approved Integrated Eri Silk Development Project, under North Eastern Region Textile Promotion Scheme (NERTPS), for women empowerment and sustainable livelihood in Kohima.

Viewing sericulture as a high potential area, Gangwar observed that Nagaland can be a forerunner in silk quality and its promotion. The Minister said that in the last two years, the Ministry of Textiles has sanctioned three major sericulture projects to Nagaland, with Central Government support of Rs 101.25 crore. He said that these projects will support silk production in all three varieties of silk (Eri, Muga and Mulberry), from plantation to finished product to marketing. He said that these projects are expected to help about 5000 farmers engaged in plantation of Eri, Muga and mulberry silk and would increase the overall production of quality silk by three times through various interventions.