Dainese new 2012-13 Equestrian Collection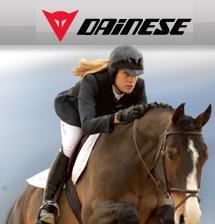 After the last event in January, Dainese is delighted to confirm its participation at SPOGA from 2 to 4 September 2012 to present the new 2012-13 Equestrian Collection. Forty years of experience of providing protection in the motorbike, mountain bike and skiing sectors have led to the creation of a line of clothing and accessories for equestrian events. Needless to say, these items combine very high levels of safety with comfort and elegance.
The innovative BALIOS 3 protective waistcoat for equestrian sports features a hexagonal construction which guarantees maximum efficiency in terms of coverage and mobility.
The layout of the hexagonal shapes provides a design template for a protective system that offers mobility and maximum protection exactly where it is needed. The material used is known as Crash Absorb and is a special water-repellent viscoelastic nitrile rubber with specially designed perforations that provides a high degree of protection, comfort and breathability.
Great care has been taken with the helmets and each model features design and material solutions that provide excellent sports performance. Superb ventilation and comfort combined with certification to the highest standards make this product an reliable safety item.
Dainese