PUMA launches exclusive range of BIC merchandise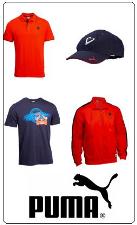 PUMA, the global SportLifestyle brand is the Official Merchandise Partner to the Buddh International Circuit (BIC).

The brand has launched an exclusive range of BIC merchandise ahead of the big race weekend from Oct 26-28. The premium collection is being retailed at key PUMA stores across Delhi and Noida as also online (exclusively) on their e-commerce site.

PUMA will also have 5 stores at the BIC in different zones during the three days of the race where the official merchandise will be sold.

Key Styles from the BIC Range
GP Buddh Logo Cap (56229602): Shade your eyes from the sun while keeping up with all the action on the circuit.
GP Buddh Logo Polo (56228104): Our signature piece from the BIC collection. Grab it, grab your place and get your speed fix.
GP Buddh Logo Speed Tee (56229703): Experience nerve-wrecking, teeth-gnashing Motorsport Mania in this lightweight tee and take home a special souvenir from an unforgettable race.
GP Buddh Logo Jacket (56228904): Stand out with this fiery red jacket designed to keep the sun and wind at bay, while keeping your adrenalin pumping.
PUMA is one of the world's leading Sportlifestyle companies that designs and develops footwear, apparel and accessories. It is committed to working in ways that contribute to the world by supporting Creativity, SAFE Sustainability and Peace, and by staying true to the principles of being Fair, Honest, Positive and Creative in decisions made and actions taken. PUMA starts in Sport and ends in Fashion.
PUMA