Istanbul creates world's largest sweater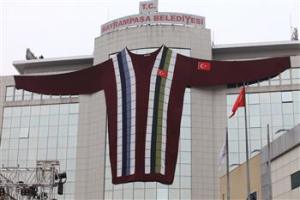 A gigantic sweater, approximately 151 feet long and 52.5 feet wide, has grabbed the title of world's largest sweater in the Guinness Book of World Records.
The world record setting garment was recently unveiled at Istanbul's Bayrampasa Municipality by the Turkish Minister for the EU Affairs and Chief Negotiator Egemen Bagis and Istanbul Mayor Bayrampasa Atilla Aydiner.
Knitted for the purpose of drawing public's attention towards the issue of energy wastage by modern communities, the massive white and black striped pullover was produced by 90 people within 30 days time using over 500 kilograms of wool yarn.
Inspired by the National Sweater Day celebrated by Canadians on February 9th every year, the huge sweater emphasizes on the environmental need of energy conservation by turning down heaters and adopting more conventional forms of heating like wearing warmer clothes.
Fibre2fashion News Desk - India