Denim Story unveils Valentine's super skinny denim range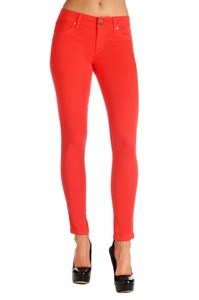 Valentine's Day is just a day away and with the love in the air; Denim Story presents two of their much acclaimed denims perfectly apt for this celebrated day.
Perfect for a dinner date followed by a night dancing around town, shine, sparkle and dazzle your loved one with the super skinny AG Jeans Sequins Ankle Legging.
Get sparkle on in a serious way with this legging that boasts all over sequins for sexy glamour.
In a bright red which is sure to add the right amount of oomph and panache for the fashionistas having a casual night out there is the DL 1961 Emma Antigua.
Made in lightweight soft stretch revolutionary denim that moves 360° like a performance fabric—eliminating sag, bag, and loss of shape, while maintaining the integrity and structure of the style, even after repeated wears, the DL is a denim lover's dream!
Denim Story