Michaela Jedinak unveils virtual fitting room from Fits.me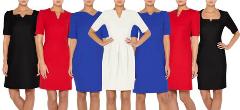 Michaela Jedinak is delighted to add the virtual fitting room from Fits.me. Now visitors can not only find their best fitting size but also see for themselves the styles that flatter their body shape.
One can also offer online personal style advice. It is like a personal style and fitting consultation from the comfort of ones own home.
Michaela Jedinak
The Fits.me Virtual Fitting Room is the only fit solution to provide shoppers with a photo-accurate visualisation of fit. It delivers the in-store fitting room experience online and on mobile devices by displaying a real photograph that shows exactly how the garment the shopper is looking at will fit on any shopper's body size and shape.
Unlike many designers Michaela offers a choice of styles and cuts to suit every body type.
Fits.me