Abuses on in Cambodian garment units: Human Rights Watch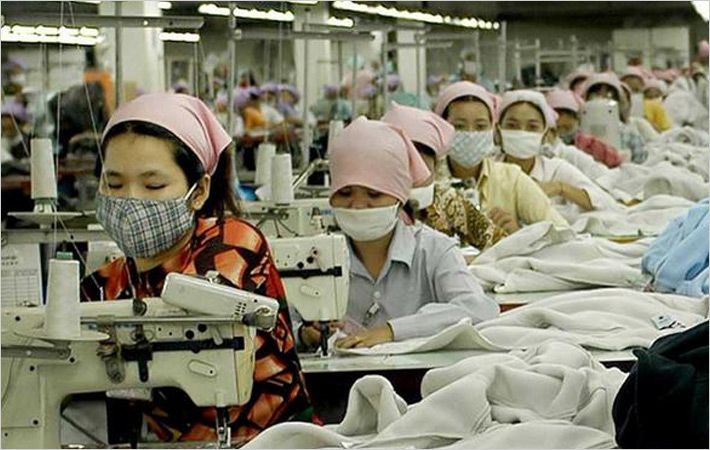 In a new report, Human Rights Watch said the Cambodian government is failing to protect garment workers who are producing for international apparel brands from serious labor rights abuses.

In a statement, the agency said, the predominantly women workers often experience forced overtime, pregnancy-based discrimination, and anti-union practices that neither the government nor major brands have adequately addressed.

Women make up 90 per cent of the country's more than 700,000 garment workers in 1,200 garment businesses, according to the Ministry of Industry and Handicraft.

The 140-page report, 'Work Faster or Get Out': Labor Rights Abuses in Cambodia's Garment Industry' documents lax government enforcement of labour laws and brand actions that hinder monitoring and compliance.

The agency said that in recent years, wage protests, instances of garment workers fainting, and burdensome union registration procedures have highlighted the plight of workers in Cambodia's garment factories.

"The Cambodian government should take swift measures to reverse its terrible record of enforcing its labor laws and protect workers from abuse," said Aruna Kashyap, senior women's rights researcher at Human Rights Watch.

She added, "These global apparel brands are household names. They have a lot of leverage, and can and should do more to ensure their contracts with garment factories are not contributing to labour rights abuses."

Human Rights Watch found that many factories repeatedly issued unlawful short-term contracts to avoid paying workers maternity and other benefits, and to intimidate and control them.

Small factories that subcontract to larger export-oriented factories are more likely to hire workers on a casual basis, making it harder for workers to assert their rights because they risk being easily fired.

"Apparel brands have not taken adequate steps to end the illegal short-term contracts in their supplier factories, even where their supplier codes of conduct have clauses limiting their use," the watchdog noted.

Cambodia's garment industry, dominated by foreign investments from Hong Kong, Taiwan, China, Singapore, Malaysia, and South Korea, is critical to the country's economy and women's livelihoods.

The Human Rights Watch report is based on interviews with more than 340 people, including workers, union leaders, government representatives, labor rights advocates, GMAC and international apparel brand representatives.

Of some 200 apparel brands that source from Cambodia, Human Rights Watch was in contact with Adidas, Armani, Gap, H&M, Joe Fresh, and Marks and Spencer.

While Cambodian labor law requires overtime work to be voluntary, workers from 48 factories supplying to international brands told Human Rights Watch that it was forced.