Workwear producer MASCOT opens new plant in Vietnam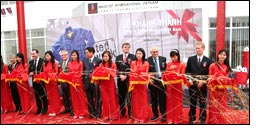 The inauguration of the workwear manufacturer MASCOT's new factory in Vietnam strengthens the company's basis for retaining the growth rates of around 20 per cent annually seen in the last ten years. The factory is located 50 kilometres from Hanoi and will employ 650 people when it is fully operational.

We have been active in the Far East for about a decade, so now we have gone the whole length and combined several connected activities in an industrial zone near Hanoi, says Michael Grosbøl, Managing Director of the 25-year-old family-owned international company with headquarters in Silkeborg.

The start-up of the Vietnamese factory will bring MASCOT's raw material store, specialist production and quilt factory together, so that the company is close to the production facilities and becomes more competitive. This will enable MASCOT to deliver to the customers more quickly.

Sales, stock of finished goods and all administrative functions remain in Denmark. The standard production collaboration with other workrooms in Far Eastern countries will also remain intact. Michael Grosbøl continues: It is completely new for us to have our own production out there.

However, another reason for locating ourselves in Vietnam is that we are very focused on improving our products and the lower wages enable us to undertake product development without significantly increasing costs.

Especially product development, but also market development, has been characteristic of the workwear manufacturer's overall strategy.

We have been involved in product development ever since I started at the company in 1992 and in those days it was innovative, for very little had happened in the workwear industry for half a generation – there had been virtually no development, explains Michael Grosbøl.

He continues: Especially from the late 1990s, we really speeded up the product development and that has turned out to be profitable.