Levi's Lady Style cuts bring out sexy femininity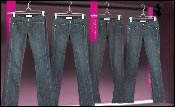 Levi's Lady Style cuts two arresting new looks this spring/summer to reveal the irresistible silhouette of a lady and her alluring sensuality. The collection will highlight slender silhouettes, especially with the season's mix of hot wide-leg and skinny jeans, and variety of tops, bottoms, and glam accessories.

This season, the secret in flaunting legs lies in pairing off skinny jeans with voluminous tops. At the same time, riding on the emerging trend of the wide-leg bottom, the new wide-leg jean will accentuate slim silhouettes and bring out sexy femininity. With these two arresting looks that play on proportions and shapes, ladies in Levi's Lady Style will be able to strut anywhere with style, sophistication and confidence.

Wide-leg jean - The wide-leg jean rides high on your waistline, giving the illusion of a smaller waistline with a flat, sleek front through the v-shaped front yoke. At the same time, the widening of the jean, from the hips and thighs all the way to the bottom of the jean, emphasizes long legs.

Low rise skinny tapered jean
Ladies can also go for an ultra-slim cut with the low rise skinny tapered jean for yet another look that showcases irresistible style and sexiness. Voluminous tops are a perfect layering match, drawing attention to the slenderness of the legs.

The Levi's Lady Style range of skinny jeans are made with fabric of a bi-stretch material that allows freedom of movement and comfort. This material will reveal the alluring contours of a woman, providing an impeccable fit for the bottom.