Bosideng expands its line to four-season fashions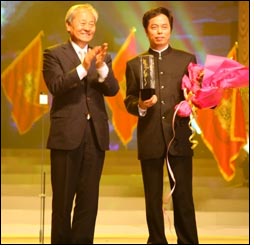 China's largest down apparel company Bosideng International Holdings Limited presented its latest 2008/09 fall/winter cold resistant apparel at the "2008 China International Clothing and Accessories Fair" ("CICA") in Beijing, an annual event of great prestige for top players in the apparel and fashion industry.

Leveraging the Bosideng brand, the Group also unveiled a brand new line of cold-resistant apparel products to expand its year-round, marketing opportunities.

At the CICA, Bosideng first showcased a new series of non-down four-season fashions to highlight the brand's strategic positioning of focusing on down apparel as core sales items, but expanding its reach into four-season fashion lines.

The CICA is organized by the China National Garment Association. This annual grand event brings together top professionals from China and foreign fashion and apparel companies.

At this event Bosideng won the "Grand Achievement Award" which is the top honour at the "China Apparel Brands Annual Awards" organized by the China National Garment Association.

The selection of winners was based on a series of rigorous criteria including: a strict online voting process, extensive market research, fashion showcases, company presentations, random market research on product quality, company report review and other factors.

Bosideng exceeded evaluation standards on all aspects and excelled in terms of international expansion, brand strength, market share, and industry position.