Virtues of uniform industry & NAUMD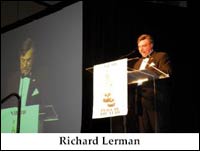 The North-American Association of Uniform Manufacturers & Distributors (NAUMD) released an address by President Richard J. Lerman in which he outlined the many virtues of both the Uniform Industry and the Association.

In comments made during the Welcome Breakfast at the NAUMD 2008 "Winning Strategic Alliances" Convention & Exposition at the Gaylord Opryland Hotel, Nashville, Tennessee, Mr. Lerman stressed the services provided to and used by all in our
society.

"NAUMD & Uniform Industry succeeds in serving society because of the vitally important strategic alliances forged by all who are engaged in the creation, manufacture and distribution of the clothes North-American workers wear to promote professionalism, respect and security." Mr. Lerman said.

And he continued…."The uniform industry remains the last bastion of true strategic alliances in all of North America! Here at the NAUMD Convention, business relationships are nurtured, created and enhanced.

Our focus is simple: bring people engaged in ALL aspects of the uniform design, creation, manufacture and sales process together on behalf of their important customers!

Indeed, NAUMD members touch the lives of all who live and work in North America -from the Police, Fire Fighters, Medical Staff, TSA agents who check you in at the airport, to the fine front desk staff of your hotel - uniforms in all forms are a vital tool of those who help you in so many ways! It is our obligation therefore to serve proudly those who cannot do what they do without us.