Mugwaz T-Shirt Kits inspire kids to be creative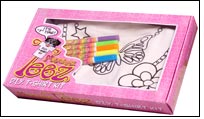 Fashion-savvy kids will be making room in their dressers this summer for the latest wearable trends from Mugwaz, a decorate-it-yourself brand that produces inventive craft-fashion-fusion kits for girls and boys. The new Mugwaz Teez kits let kids express themselves with three hip, color-'em-yourself T-shirt designs.

"Mugwaz kits inspire kids to be creative and have fun," says Bree Altman, Mugwaz founder and president. "When they're done, they have a cool T-shirt that they made themselves and will be proud to wear! Every child is one of a kind, so why shouldn't their shirts and accessories be, too?"

Named after Altman's pug, Mugwa, Mugwaz is a leader in the craft-fashion-fusion market. Since 2004, the company has grown from the original Mugwaz flip-flop decorating kits to include Bagz, Beltz, Take-Out Linkz and now Teez.

The 100% cotton Teez come in three designs ready to be jazzed-up by aspiring designers and young crafters alike:
- Whimsical girls can show off their artistic side with the "funky diva" shirt. The necklaces printed on the shirt have lots of charms, including hearts, butterflies, clocks and even a "mug"-shot of the company's namesake pooch.

- For the little sophisticate who wants a more "bling" design, check out the "glam goddess" shirt with its huge gem and strings of giant pearls.

- Boys and girls will have fun decorating the "business casual" style. This geek-chic tee features a collar and buttons, a "Hello. My name is..." tag, a slightly askew tie and a pocket that can be embellished with drawn-on pens, campaign buttons, patches, badges and more.